The Challenge
Fix Usability Issues and Increase Sales
In 2014, a redesign to destinationlighting.com resulted in a drop in sales. It was believed that the decline was tied largely to usability issues. We were tasked with discovering these issues and to design a solution that would restore sales to previous redesign levels.
My Role
Working on a team with two other UX designers, I led visual design and was the point of contact between the team and our stakeholder. I also participated in research, planning, prototype design and testing.
Research
Discovering Customers' Needs
We conducted customer and market research as well as usability testing to drive our planning phase. These are the key insights that defined the design of the website:
"Just seeing it on white doesn't tell me how it will look [in my home]. How does it look dangling over a table with flowers, is it complementary to other things? I just like to see it hanging in real life."
---
The Persona
Meet Brenda Daniels
Brenda Daniels is a 52-year-old middle school teacher from Portland, OR. She is married with two kids and her hobbies consist of reading, and decorating her home.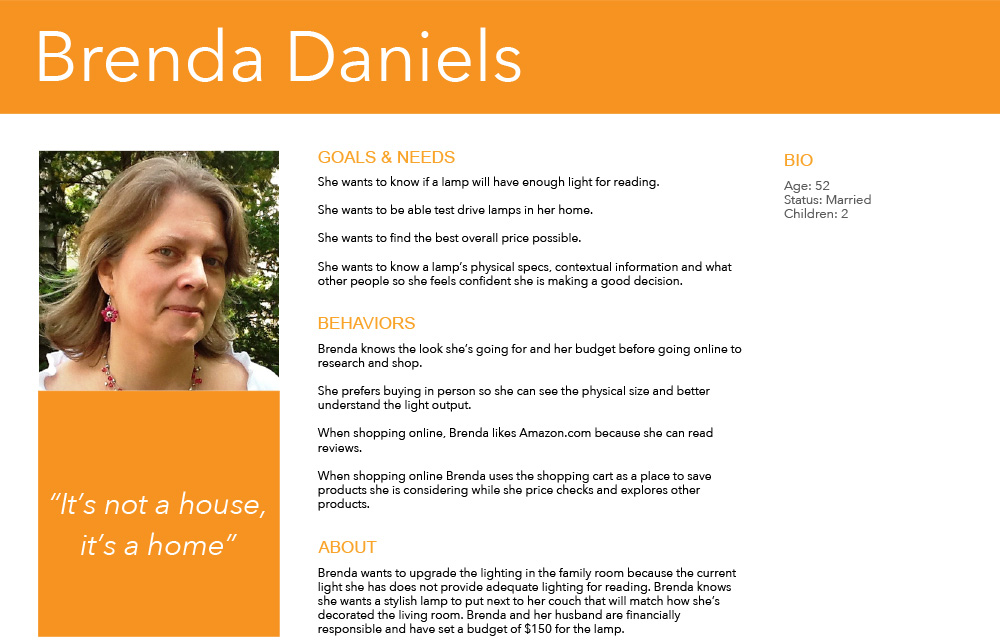 "It's not a house, it's a home"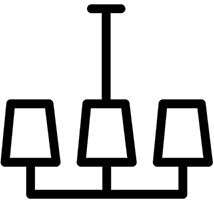 Her Problem
Brenda wants a chandelier with lots of light for her entryway.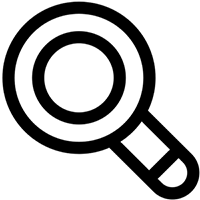 What She Needs
She wants something that fits her style, space and budget.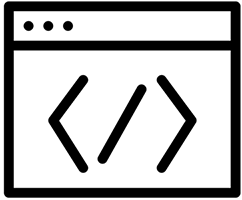 The Current Site
The website currently offers selection and price but lacks contextual information.
---
The Pivot
Buyer Confidence Comes from Contextual Information
Pivoting from the original hypothesis that poor site usability was causing a drop in sales, we turned our attention to designing an experience that would give customers the necessary contextual information and confidence to make a purchase, and feel good about it.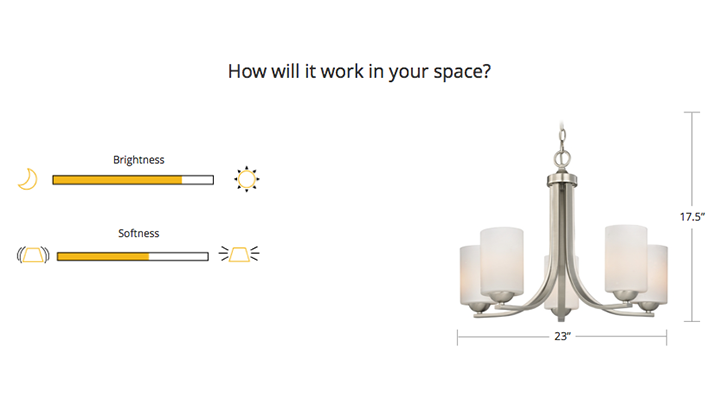 ---
Design Thinking
Coming Up with a Solution
Working within business constraints, we brainstormed ideas, iterated and came up with a redesign that would:
Provide additional contextual information for Brenda
Lower the perceived risk of buying
Work with existing site content and functionality
Be quickly put into production
---
Design
Designing for Brenda
Keeping Brenda's needs in mind, we redesigned the checkout flow to provide more contextual information so she would feel more comfortable buying. Additionally, due to business constraints identified in several stakeholder interviews, we chose a design solution that used existing site content instead of additional content and functionality resources.
---
The Impact
The response from the final usability test of our design solution was very positive. Users felt the design helped them visualize the product in their space and increased their confidence in the purchase. Users also responded well to the layout and design of both processes.
"I like how they gave me details on the quality of the lamp instead of jargon, when I really care about how bright the lamp is."
"I would purchase this product because they show price, people rated it highly, I know how bright it is and I know how big it is."